Description
Can't sleep?
Everyday stress. Snoring. Noisy neighbors. There's plenty that keeps you awake. Introducing Sleepbuds™ II. Tiny and comfortable, Sleepbuds™ work with the Bose Sleep app to deliver relaxing sounds to help you fall asleep, and use Bose noise-masking technology so you stay asleep all night.
Unlike headphones, Sleepbuds™ don't stream music or podcasts. They play content only from the Bose Sleep app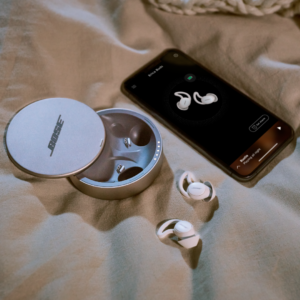 BOSE SLEEPBUDS™ II
Truly wireless earbuds designed specifically for sleep. Comfortable eartips passively block noise, while soothing sounds help you sleep through the night. Get up to 10 hours on a single charge and 3 additional charges from the case.
BOSE SLEEP APP
Sleepbuds™ II work together with the Bose Sleep app to bring you a library of more than 50 sounds, including Bose-engineered noise-masking sounds and relaxation content. Choose your favorites to download onto the buds and customize other settings — like a personal wake-up alarm. More content will be added to the Sound Library through future software updates.
Sleep better — from wind down to wake up
A good nighttime routine leads to restful, healthy sleep. Sleepbuds™ II are designed for all stages of sleep — from the time you crawl into bed to unwind after a long day to when you roll over in the middle of the night. So you wake up refreshed. The editors at BurnIn.com agree, saying "Sleepbuds™ II excel at what they are designed to do — which is sleep and sleep alone."