Description
WITHOUT SOUND
THEY'RE JUST SUNGLASSES
The original Bose Frames debuted in 2019 and quickly became one of our most popular products. Now the sequel is here. Thoughtfully refined and strikingly elegant, Bose Frames Soprano flaunt polarized lenses and premium craftsmanship, while exclusive Bose Open Ear Audio™ technology produces sound you'd never expect from sunglasses. It's a jaw-dropping experience that leaves you free to engage with the world around you, all while discreetly listening to music.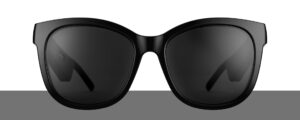 An enchanting silhouette
With their large lenses and delicately sloped browline, Bose Frames Soprano style provide a dash of retro glamor in an elegant update to cat eye. They play fuller, deeper and longer than the original version, too, with the rechargeable battery now offering up to 5.5 hours of playtime.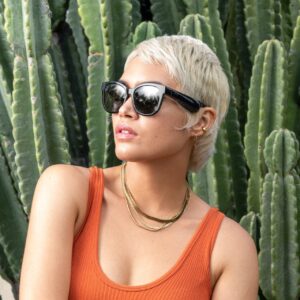 Nothing in or on your ears
That's the difference, a revolutionary Bose Open Ear Audio™ design that frees you to hear and interact with the world around you, all while discreetly listening to music. An exclusive, wafer-thin acoustic package hidden in the temples produces lifelike sound, while an innovative design drastically reduces the spread of sound beyond you.
Luxury in the details
High-gloss Black. Stainless-steel hinges. Polarized lenses that won't easily scratch or shatter. Bose sunglasses are crafted from ultramodern materials to both look and feel luxurious. Because that's how you should look and feel when you wear them.
Comfort.Refined.
It starts with the fit, fully refined from the original Bose sunglasses to match a wide range of face shapes. It continues with the lightweight, smooth-as-silk nylon frame, both lushly comfortable and decidedly durable.
Calls, too? Definitely.
Take calls on the go, hands-free. Our latest audio sunglasses feature an advanced microphone system, designed to focus on your voice while reducing the sound of the wind and noise around you.
Tap, touch,swipe controls.
With seamless capacitive touch and an integrated motion sensor, these cat eye Bluetooth sunglasses' controls are as modern as their concept. Slide your finger along the right temple to adjust the volume. Double-tap to access your phone's voice assistant. And when you're done, take them off and place them upside down. They'll sense the movement and turn off.
Swap lenses. Show a new style.
Shop the Bose Frames Lens Collection for interchangeable colored lenses you can easily swap on the fly to change your look. Polarized lenses available.
Our frames.Your prescription.
Bose sunglasses are prescription (Rx) ready, so you can enjoy all the benefits of audio sunglasses with lenses made just for you in 1, 2, 3.
1. Visit lensabl.com to select Bose Frames with prescription sunglass lenses
2. Enter your prescription
3. Receive your custom Frames in about two weeks
Fashion never sounded so good