Description
INTRODUCING
LIMITED-EDITION CARMINE RED
Carmine Red joins classic Black, Stone Blue, and White Smoke just in time for summer.
Get it before it's gone.
Astonishing sound. Wherever life takes you.
A portable speaker that is made for going wherever you go, the SoundLink Flex is the perfect musical sidekick for both days out and nights in.
"Best mini Bluetooth speaker you can buy right now."
WATERPROOF AND DUSTPROOF (IP67)
Rigorously tested to meet an IP67 rating, SoundLink Flex is waterproof and dustproof inside and out. Dunk it in water, and it'll keep on playing. It even floats. The speaker is also protected against dust, so you don't need to worry if it gets sandy at the beach.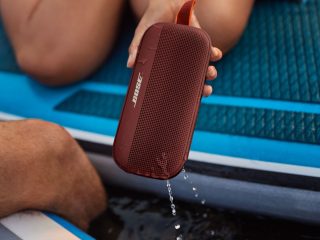 Built to handle some bruising
With its powder-coated steel grille and silicone exterior, the SoundLink Flex Bluetooth speaker was purpose-built to make it adventure-ready. Its tough exterior can withstand almost any mishap, while its powder coat won't peel or flake and is resistant to rust corrosion and UV light.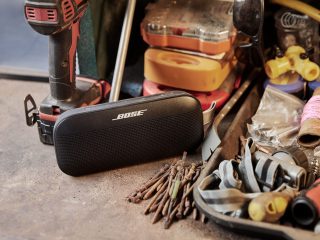 Innovative tech you can hear
Packed with state-of-the-art tech, the SoundLink Flex is more than just a pretty package. Its innovative transducer ensures the clearest possible sound, meaning you hear distinct instruments, nuances in the vocals, and balanced treble and bass.
Incredible sound in any position
With its PositionIQ™ Technology, SoundLink Flex automatically adjusts to its orientation to optimize the sound. Whether it's standing upright, lying on its back, or hanging from its tear-resistant utility loop, you'll always hear your music in full, balanced tones.
UP TO 12 HOURS PER CHARGE
Keeps up with you all day
Whether you're working a long shift or enjoying a day on the water, SoundLink Flex will provide your soundtrack all day. It can go for up to 12 hours on a single charge, and when it's time to power back up, you can recharge it quickly via its USB-C port.
PAIRS WITH OTHER BOSE SPEAKERS
SoundLink Flex's Party Mode lets you pair it with another Bose Bluetooth speaker, meaning you can enjoy more of your music, inside and out.